La MaMa: Remembering Robert Patrick
Feature published in La MaMa: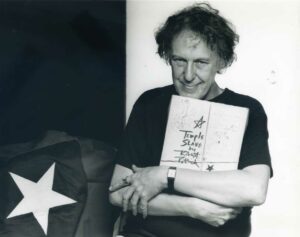 La MaMa is heartbroken by the loss of iconic playwright, actor, poet and performance artist Robert Patrick. A beloved fixture of the Off-Off-Broadway theatre community, he was especially proud of his work at Caffe Cino. In 1965, he started producing plays under the artistic commission of Ellen Stewart at La MaMa. He wrote his first play, The Haunted Host, in 1964, and it is considered one of the earliest modern gay plays. Playwright William M. Hoffman wrote, "Robert Patrick was among the first to depict gay people and remains one of the best."
His first play at La MaMa was Mirage (1965), directed by Neil Flanagan. In November of that year, he produced BbAaNnGg, a benefit to raise money at La MaMa's 122 Second Avenue theatre which brought together 28 prominent Off-Off-Broadway artists. He directed his own play The Richest Girl in the World Finds Happiness in 1970 (which was revived at La MaMa in 1981) and the Christmas show at La MaMa in 1971.
A leader in the Off-Off-Broadway and gay theater movement, he was dubbed by Samuel French as "New York's Most Produced Playwright" in 1972, with over 300 productions of his plays in New York City during the 1960s. He also directed Valentine Rainbow and Play by Play in 1972. In 1973, he directed Paul Foster's Silver Queen. Patrick's 1974 production of The Haunted Host in Boston was the first time Harvey Fierstein appeared on stage professionally as a man.
In 1975, his play Kennedy's Children was produced on Broadway after being produced in a pub in London the year before, and Shirley Knight won a 1976 Tony Award for her performance. Kennedy's Children has been produced thousands of times in theatres of all sizes across the country and helped Robert Patrick gain recognition as one of the significant dramatic voices emerging from New York's downtown scene. He travelled extensively around the world to playwriting festivals and to where his plays were being produced, and he also enjoyed teaching theatre workshops to high school and college students.
In the '90s, he presented Hello Bob (1990) and The Haunted Host (1991) at La MaMa. Four short plays by Patrick comprised CultureHub's Hi-Fi/Wi-Fi/Sci-Fi, Predictions Past Present and Future in 2017, and in the same year, La MaMa held its 140th Coffeehouse Chronicles celebrating his work and career. Most recently, in 2022, his writing was featured in CultureHub's Digital Storytelling: A Few Deep Breaths. He led an active life, writing poems and songs and performing at several venues in Los Angeles right up until his passing. He will be greatly missed by La MaMa and the global theatre community.
Image (left): Photo of Robert Patrick by Beckett Logan, 1990
Image (right): Photo of Harvey Fierstein, Robert Patrick, and Doric Wilson at Phebe's by Adam Craig, 1981