Founded by Bill Kaiser in 1991 as a quarterly printed newsletter, the Purple Circuit evolved into a website while maintaining its mission to promote LGBTQ+ and  Feminist theater/performance.
Michael Kearns, Publisher
Globally recognized as Hollywood's first openly gay actor, followed by an announcement on Entertainment Tonight as the first actor in Hollywood to come out as HIV-positive, Michael Kearns has been a provocative and impassioned voice on the cultural and artistic landscape of America and beyond for fifty years. In addition to teaching private and group writing classes, Kearns is presently an Artistic Associate at the esteemed Skylight Theatre in Los Angeles, Artist-in-Residence at Housing Works, and Artistic Director of QueerWise, a Spoken Word Collective he founded in 2011. More at his website.
Bill Kaiser, Editor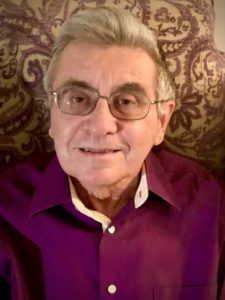 Bill Kaiser has been a long-term LGBTQ+ rights advocate with emphasis on cultural perspectives. He and his partner Glen Moore formed Wilde Productions which produced the award winning Oscar Remembered as well as an early AIDS play, ONE. He served on the Celebration Theatre and One Archives boards and helped form The Gay And Lesbian Theatre Alliance as well as Artists Confronting AIDS. He was the Coordinator of Purple Stages, a month long theater festival in 1987 and was curator for the Performing Arts Collection at ONE Archives . He is also a founding member of LA Greens and the peace group Out Against War. He is a Wildean and sponsors events on Oscar Wilde's birth and death days. In 1991 he helped found The Purple Circuit and was editor of its quarterly newsletter. He has continued to edit its website and promotes LGBTQ+ and Feminist Theater and performance everywhere.
The Purple Circuit Archives are located here. It contains lists of (mostly American) plays and events that have LGBT and feminist content, starting from March 1999. There are reviews and articles written by Demian, Carolyn Gage, Sky Gilbert, Erik Haagensen, Robert Heide, Bill Kaiser, Michael Kearns, Steven LaVigne, Joan Lipkin, Tim Miller, Robert Patrick, Del Shores, Tom Stoppard, Jason Stuart, Michael Van Kerckhove, Patricia Nell Warren, and Doric Wilson.
Grey Jeán, Moderator
Grey Jeán is a non-binary, queer artist with a writer's heart and a passion for performance. They have been an active member of the L.A. LGBTQ+ community since their initiation as a marketing and media representative for The FIGHT Magazine in 2018. Grey has served on panels for non-binary and trans individuals, played a key role in the production of NiK Kacey's Equality Fashion Week, and hosts a weekly Zoom group, Tied Under The Rainbow for neurodivergent LGBTQ+ folks. They are a working fashion and art model, and recently released their first single, 16:20 with their band, JOY. You can see Grey in their upcoming performance of The Trans Vagina Diaries, coming to West Hollywood in Fall 2022.